Category Archives:
Press Releases
Malta, NY – The last name Johnson is as much a part of the history of Capital District racing as the tracks themselves. The tradition will continue in 2014 as fan favorite Ronnie Johnson returns to weekly DIRTcar Modified action at the Albany-Saratoga Speedway.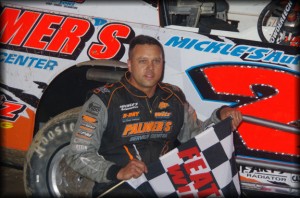 "We plan on racing at Albany-Saratoga every Friday night," Johnson said. "It is one of my home tracks; I started my racing career there. I really like running there and the competition is about as high as it can get. We are really excited about it. Lyle (DeVore) and Howie (Commander) are doing a good job there, it is a fun place to go and we enjoy it."
Johnson has been a regular at the Great Race Place for most of his racing career. It is the whole track package that keeps bringing the third generation star back each season.
"It's a fun race track," Johnson said. "It is really fun and you have to be aggressive. It is old fashioned short track racing."
The 2013 campaign for Johnson would see him put the Alton and Carole Palmer owned Teo Pro Car in victory lane two times on the way to a fifth place finish in the final DIRTcar Modified point standings.
"I won two races and ended up fifth in points," Johnson said. "They have a good point fund at Albany-Saratoga and to finish fifth in points is not too bad. I would love to win a track championship there as that is the ultimate goal. There is so much competition there."
The man known as "RJ" started all 17 feature events during the 2013 season. He would visit victory lane on May 17th and August 2nd and complete the season a mere ten points behind fourth place points finisher Matt Delorenzo. In all Johnson scored seven top five finishes and 12 top ten finishes and finished the season with an average finish of 8.29.
Johnson has a total of 26 feature wins at the Great Race Place. A total of 19 are in the DIRTcar Modified division with seven coming in the Sportsman division. Johnson won all seven Sportsman events in the 1997 season, a season which he was crowned the division's track champion.
Like most racers, Johnson is always on the lookout for ways to improve his weekly performance and in 2013 he learned a few things that could go a long way in improving the team's weekly consistency.
"We are always trying something different on the race car," Johnson said. "We are looking for something that will get us in position to win more than a couple of races per season. There are pros and cons to this because when you don't hit the right set up you're maybe a tenth place car. We learned some things last year; I think some of our set ups are going to carry over into this year."
For the first time in his career Johnson will be running on Hoosier Racing Tires on both Friday and Saturday nights. While Johnson feels the tire consistency will help, he doesn't see the end result changing.
"I think it will help us as a whole," Johnson explained. "It will help with the amount of work that we have to do as the set ups are a little different between the different tire brands. I do not think it will change the outcome of the events as I think you will see the same guys run up front every week. I also think we will spend a little less money."
Going into the 2014 season six time track champion Brett Hearn and 12 time champion Kenny Tremont, Jr. are the early favorites. Johnson feels he will be in the mix but it will not be easy.
"That is the goal," Johnson said of challenging the first and third winningest drivers in the track's history. "Those two are good at what they do and trying to knock them off the top two positions will be awful tough. Even if they have an off night they still finish close to the top five. I think we need to be more consistent. I don't think anybody is going to go in there and win ten races in a season like Brett, Kenny or my father have done in the past. I think it is more about being consistent and being in the top five every week."
Johnson was quick to thank everyone who makes competing weekly possible.
"I have to thank all of my sponsors and especially Carole and Alton Palmer," Johnson said. "We have a whole slew of sponsors and I do not want to forget anyone. I have to thank my wife Shelley and my step daughter Nikki as they put up with my crazy life style and everybody involved with our team."
The Albany-Saratoga Speedway is scheduled to open its gates on Sunday April 13th for a practice session. The season opener is scheduled for Friday evening April 18th.  For more information on the Albany-Saratoga Speedway, including the full 2014 schedule, please visit the track website at www.albany-saratogaspeedway.com